Occupational Therapy (OT) is an important part of a patient's overall rehabilitative therapy program.
Our Occupational Therapists use their knowledge of the structure and function of the human body, the effects of illness or injury and the components of activity to increase the patient's overall involvement in functional activity and safe practices. 
The Bellevue Hospital's Occupational Therapy Department is skilled in the treatment of hand injuries, customized splint fabrications, functional independence training and industrial work services.  
Conditions are skilled therapists can treat include the following:
Amputation / Replantation 
Arthritis
Carpal Tunnel Syndrome 
Contusions, sprains and strains 
CVA / TIA (Strokes)
De Quervains Tendinitis 
Fractures
Head injuries
Joint replacement or fusion 
Ligament repairs 
Nerve Compression Syndromes
Peripheral Nerve injuries
Reflex Sympathetic Dystrophy (RSD)
Spinal Cord injuries
Splint fabrication 
Tendon laceration or evulsions
Tennis or golfer's elbow
Occupational Therapy services The Bellevue Hospital provides include: 
Adaptive equipment recommendations and usage training guidance to family members and caregivers
Cognitive problem solving abilities 
Comprehensive home and job site evaluations with adaptive recommendations
Customized treatment programs to improve one's ability to perform daily activities
Energy conservation / Work simplification
Fabrication of customized splints
Functional capacity exams
Home exercise programs
Industrial rehabilitation
Muscle re-education
Post-op rehabilitation
Standard and power wheelchair evaluation
Treatment of hand, wrist and elbow injuries and conditions 
---
REHABILITATION SPOTLIGHT
Ryan Alley, OTR has been an Occupational Therapist at The Bellevue Hospital since 2000. Ryan is a Bureau of Workers Compensation accredited Transitional Work Developer, and an Industrial Ergonomic Evaluator.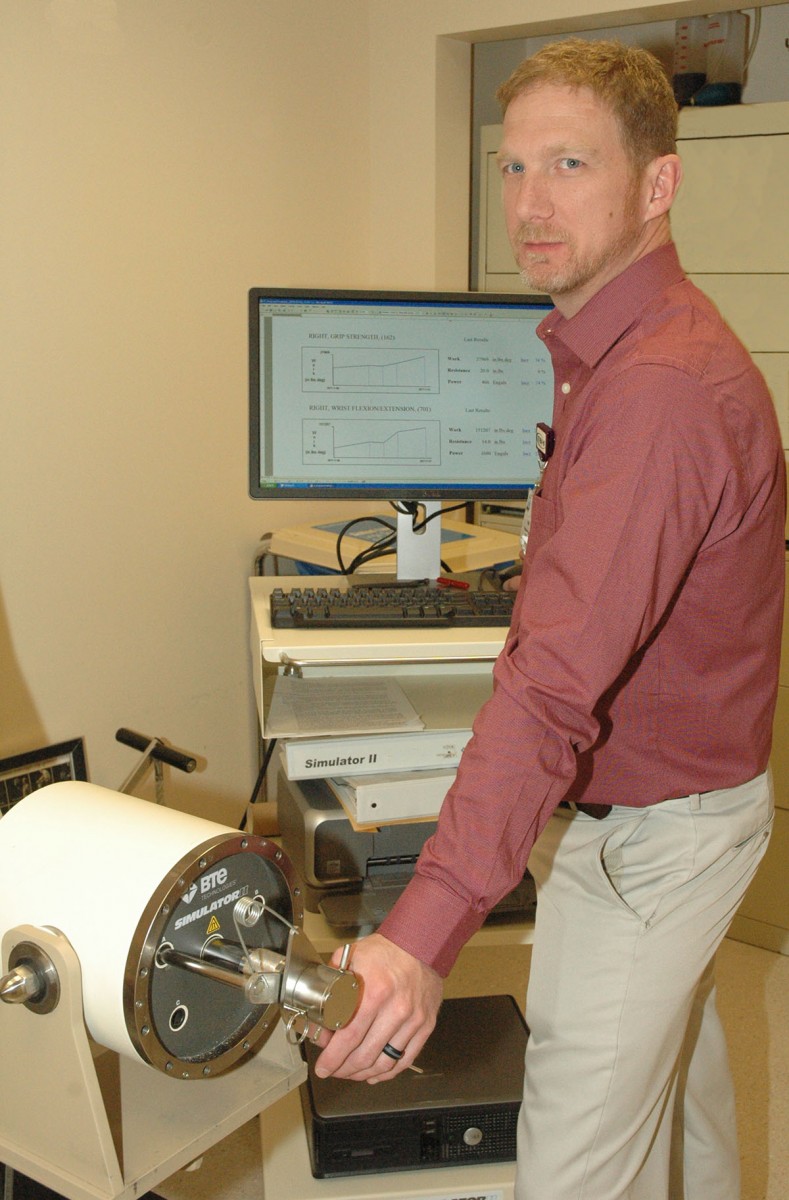 The primary goal of Occupational Therapy is to enable people to participate in the activities of everyday life. 
Whether it is treating a specific arm or hand injury, or training in ways to help you better care for yourself, The Bellevue Hospital's skilled Occupational Therapist may help you return to your previous level of function and independence. 
A physician referral is required to start an Occupational Therapy program. Call 419.483.4040, Ext. 4279 for an appointment.